Goss Chiropractic Clinics Services
The Gold Standard in Natural Care
Goss Chiropractic Clinics are the "gold standard" in natural health care. They have earned a reputation for outstanding wellness care and pain relief during 23 years of service to the community.
---
Chiropractic Care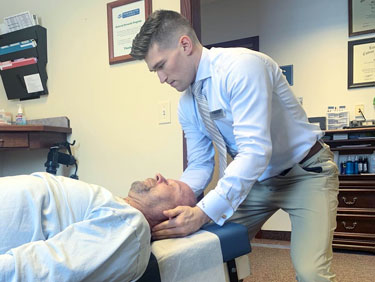 Many people seek chiropractic care because they are experiencing back or neck pain. At Goss Chiropractic Clinics, our chiropractors uncover the underlying cause of your health problem, develop a plan to relieve your pain as quickly as possible and determine ways that you can participate in your recovery. Our chiropractors enjoy seeing families, pregnant moms, and kids. We want to help our community life healthy from the beginning.
We believe that health is among our most valuable possessions. In addition to relief care, we educate patients on the value of ongoing chiropractic treatment to overall wellness. People who get regular adjustments report less aches and pains and feel better overall.
Spinal Decompression
Goss Chiropractic Clinics offers Spinal Decompression Therapy for patients with herniated discs.
Many of our patients who were scheduled for back surgery sought spinal decompression as an alternative and were able to correct their problems through therapy and ultimately cancel their surgeries
Laser
The clinic also boast a Generation Four Laser for treating sports injuries to the elbows, knees, and wrists. The high-tech equipment speeds healing for sprains, strains and soft tissue injuries and reduces pain for arthritic knees and joints and spinal conditions. Their Generation Four Laser is the same unit used by the New York Yankees and New England Patriots sports teams. He explained that some older generation lasers are less expensive but not as effective.
The expense of the Generation Four Laser is prohibitive for many practices. We are very pleased to be able to provide access for our patients
Customer service is a top priority
The clinic is open until 6 p.m. on weeknights and open during lunch for convenient appointment scheduling. Contact us today to schedule an appointment.
CONTACT US »
---
Goss Chiropractic Clinics Services | (586) 264-2100