Meet Dr. William Goss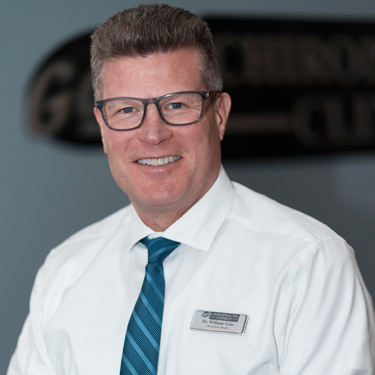 Back in 1984, Dr. Goss couldn't make up his mind on dentistry, medicine or chiropractic. To help him decide, he visited Sherman College of Chiropractic over the summer. He was instantly sold by the excitement and purpose that the students had at this small institution. Witnessing their enthusiasm inspired him to devote his life to helping people achieve their health goals naturally with chiropractic.
Devoted to Helping Our Community
Dr. Goss completed his chiropractic education in 1988. A year later, he opened Goss Chiropractic Clinics. Since that time, he has seen thousands of patients and helped people from all walks of life to achieve their health goals naturally.
As a professional, Dr. Goss gives 100% of his skills and efforts to help his patients. In 2005, he was awarded Chiropractor of the Year by the Michigan Chiropractic Association. He is also a member of LifeFORCE 1000, an organization that donates funds to send prospective students to visit Life University. He is also part of Life's Elite 150, contributing to building Life University's rugby field.
The additional memberships Dr. Goss holds include
One Chiropractic
Michigan Association of Chiropractors
Chiropractic Information Bureau
Council on Applied Chiropractic Sciences
Outside of Chiropractic
Dr. Goss and his wife, Sue, have been married since 1992. They have three children: Mackenzie, Jack and Madison. Their entire family is under regular chiropractic care. When he isn't in the office, Dr. Goss likes to be outdoors hunting, fishing, golfing, boating and gardening. He stays fit by exercising regularly and enjoys cooking.
You can meet with Dr. Goss for a free consultation without obligation. Learn more about what we do and whether we might be the right place for you. Contact Goss Chiropractic Clinics today!
View Dr. William Goss' Curriculum Vitae
Curriculum Vitae
William F. Goss, D.C., D.A.C.S.
Pre-Chiropractic Education
Oakland University, Rochester, MI 1981
Macomb Community College, MI, 1983
Spartanburg Methodist College, Spartanburg, SC, 1985
Professional Education
Sherman Chiropractic College, Innman, SC Graduation 1988
Doctor of Chiropractic
Licensure
Michigan 1988 to Present (License #2301006848)
Board Certification
National Board of Chiropractic Examiners 1988
Michigan Board of Chiropractic Examiners 1988
Post Chiropractic Education
Certified Physiologic Therapeutics, Briarwood Hospital, Spartanburg, SC, 1988
Certified Surface Electrode Myography Examiner 1992
Certified Completion of 300 hour Applied Chiropractic Sciences
Program through the International Chiropractic Association
Successful completion of the eleven-part D.A.C.S. Board Examination
Diplomat
International Chiropractic Association Council on Applied Chiropractic Association
Authorship
Chiropractic Intervention in the treatment of an Episodic L5-SI IVD
Disc Herniations and the Subsequent Legal Procedures Used To Determine Industrial Causation.
Seminars Taught
Using documentation to establish reasonable and necessary care and prevailing in small claims and district court MCA Convention 1998
Clinical Case Management – Documentation of the vertebral subluxation complex. Chiropractic 2000 & Beyond Seminar Series 1999
Strategic planning for achieving your goals Remax Realtors Convention (07/02/00)
A system orientated approach to achieving reproducible results in the chiropractic setting. Michigan Chiropractic Council (08/10/00) (04/15/01)
A practical guide to patient management using outcome measures to establish chiropractic necessity and demonstrate reasonable and customary care.
Michigan Chiropractic Association (02/20/97, 05/23/97)
Rhinos Chiropractic Club (03/05/97)
Managing the acute traumatic patient in the auto accident and Workman's Compensation arena. Michigan Chiropractic Association (07/08/97, 07/17/97)
Committee Appointments
MCA Committee on Clinical Documentation
MCA Political Action Committee
MCA Patient's Rights Legal Committee
MCA Medicare Committee
MCA Chairman Legal Action Committee
MCA Legal Affairs Committee
MAC co-Chair Legal Action committee
Memberships
International Chiropractic Association
MAC
Chiropractic Information Bureau
Council on Applied Chiropractic Sciences
Presidents Club MAC 2009
Awards
6 Time Winner of the Michigan Chiropractic Association Extraordinary Service Award
Exemplary Leadership Award 2001
MCA Presidents Award 2003
Exemplary 2004
MCA Chiropractic of the Year 2005
---
Chiropractor Sterling Heights | (586) 264-2100