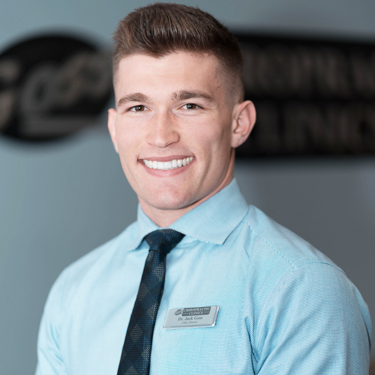 Meet Dr. Jack Goss
Growing up, Dr. Jack's father, Dr. William Goss, always said that his son would become a chiropractor. Naturally, as a kid, Dr. Jack resisted and was looking for something more exciting. It wasn't until high school when he realized chiropractic was more than boring neck pain and back pain, it was about maintaining a healthy lifestyle with combined effort in eating well and exercising regularly. Learning that chiropractic, unlike most medical professions, had a philosophy and a lifestyle component behind it made the profession a perfect fit.
To earn a Doctor of Chiropractic degree, Dr. Jack attended Life University in Marietta, Georgia. During his time there, he was involved with the elite organization Student Ambassadors and the Functional Neurology club. He joined Goss Chiropractic Clinics upon his graduation in 2019.
Memberships and Further Training
The memberships that Dr. Jack holds include
Children's Health Defense
International Chiropractic Association
International Chiropractic Pediatric Association (ICPA)
Life University President's Circle
LifeFORCE 1000
Michigan Association of Chiropractors
National Vaccine Information Council
In addition, he is certified in the Webster Technique through the ICPA. His current studies involve earning a Diplomate in Functional Neurology.
You can take a preventative approach to your lifestyle with clean eating, exercising and getting adjusted. You may not have to resort to more invasive procedures. I am thankful I was raised in the chiropractic lifestyle and want to share it with others.
Staying Active and Healthy
In his spare time, Dr. Jack loves to work out, rock climb, hunt and fish. Anything that involves a board, he enjoys, including kite surfing, snowboarding and wakeboarding. Dr. Jack likes to get out on the golf course, go backpacking and hunting and is a huge foodie. He loves to stay up-to-date with news, podcasts, and updates on the Detroit Lions as well.
Would you like to learn more about us without cost or obligation? Contact Goss Chiropractic Clinics today to schedule a free consultation!
---
Chiropractor Sterling Heights | (586) 264-2100