Massage in Sterling Heights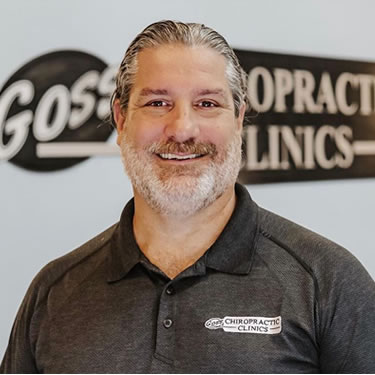 Daniel Mattern is a 2009 graduate of Irene's Myomassology Institute and a licensed Massage Therapist through the State of Michigan. He is a member of the Associated Bodywork and Massage Professionals (ABMP). He is also a certified stretch coach.
Since 2009, Daniel has been practicing massage therapy and joined the Goss Chiropractic Clinics team in June 2018. His primary focus is, but not limited to, therapeutic massage to aid in pain management, injury rehabilitation and prevention, stress reduction and overall well-being. Each of Daniel's massages are custom suited for each individual client based upon their needs utilizing relaxation, deep tissue, therapeutic and stretching modalities.
His specialties include:
CranioSacral Therapy (CST — Upledger Institute)
MyoFascial Release (MFR — John F. Barnes)
Active Isolated Stretching (AIS — Aaron L. Mattes) Burn Scar Massage (Jennifer D. Hartley)
Relaxation Massage
Therapeutic Massage
Deep Tissue Massage
Trigger Point Massage
Manual Therapy
Book an Appointment
At Goss Chiropractic Clinics, we believe that therapeutic massage promotes relaxation, boosts the immune system, relieves stress and muscular tension, and reduces pain and inflammation. These benefits and the body's subsequent relaxation response activates your self-healing mechanism and is an excellent complimentary therapy to your chiropractic care plan.
CONTACT US »
Patient Reviews
Been coming to see Dan for at least a year, and can't say enough. Best massage I have ever had. He works to help you heal without all the pain.
Denise H.
I went to Dan with a severe muscle soreness from my intense workout. After a few massages, my muscle recovery and performance start improving. After each massage, I feel so relaxed and able to move my entire body with ease afterward. Dan is a great therapeutic massage therapist. He has amazing skills and healing power.
Mereen Q.
I went to Dan with a low back issue that had not been resolved over the past few years. After a few massages, I can say that I have not had a flare-up in months. He performed different techniques each visit to see what worked best for me. Best massage therapist and the most experienced I have ever been to!

Grace R.
---
Massage Sterling Heights | (586) 264-2100